the
diploma dash
was my third run this year. i ran it last year with my parents, aunt cyndi, uncle vinny and ernest, but this year it was just my parents and i. we got there late, so i didn't have time to warm up or anything, which was not good. they had us running on the back part of the school this year, kind of showing off the changes that have been made to the campus, i guess.
i'll be honest with y'all, this run was rough. the majority of the course was uphill and into the direction of the rising sun (which sucked if you forgot your glasses, like me). there was only one water stop on the course, so if you were looking forward to that break at the 2.5 mark, you were left wanting. my allergies were killing me, and my mouth was incredibly dry. somehow i managed to run it in 33:49.6, but it was definitely a struggle.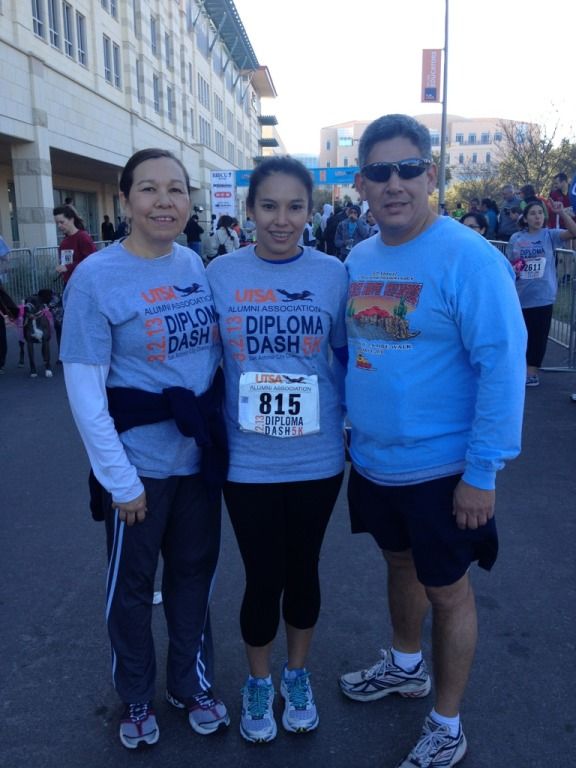 i was definitely disappointed with the actual run this year. my dad got started after my mom and i and his chip didn't even get recorded. i'm still not happy about there not being enough water on the course, and after my mom came through there were only three cups left at the finish line although there were still tons of runners coming through. however, the booths they had set up afterwards were pretty cool. they had budweiser, mcdonald's, whataburger, among other things. i just hope that next year they do a little better of a job on the course (as far as having water and not having so many intense inclines).
i've really been enjoying the 5ks, though. it's been cool to do them with my family members and kind of do some bonding while participating in family fitness. after the diploma dash my mom, dad and i went to breakfast at a restaurant near campus and then mom and i did a little shopping at target. we're already signed up for another 5k this month (
culinaria's 5k wine and beer run at la cantera
) and i'm really, really looking forward to that one. just need to find a 5k for april now!