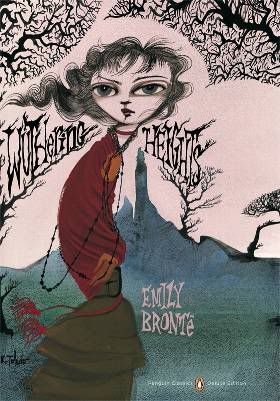 okay, i'm a little behind on this post, because i actually just finished a book last night (which i'll tell you about in a second), but now i am on to one of my favorite classics,
wuthering heights by emily bronte
. i told y'all last week how i completed my ruben toledo illustrated penguin classics. this was the first one i bought, i think back in january, but who knows? i'm always buying books, so it's hard to keep track.
my favorite character of this novel is, hands-down, heathcliff. and i just absolutely love e. bronte's description of the moors and the general dark tone of the novel. it's so...romantic and moody. kind of like ernest!
haha, all jokes aside, if you haven't read ANY of the bronte sisters works, you must be living under a rock. but if you're only going to read ONE, than this would be the one i suggest. and then you come back and tell me who your favorite character is!
now, on to the book that i finished last night (and read in five days):
i don't think i can put into words, how excited i am to see this novel on the big screen.
let me just tell you one thing. i have never been to a circus (unless i was a toddler and never formed a memory of it. but to my knowledge i've never been). and as soon as i finished this novel, i turned to ernest and said, "you have to take me to a circus". (he's never been either!)
of course, if we went to a circus today, it would be nothing like what i read in the novel. no, the days of those kinds of circuses have come and gone. which is why, i cannot wait!, to see reese witherspoon cast as the lead female character (she is one of my favorite actresses and trust me when i say, this character was written for her) and i have to say, i think rob pattinson is the perfect actor to play the hero, jacob.
as you can see, i have all sorts of high expectations for this movie. i hope i'm not disappointed...
because the novel was SO GOOD. i really didn't want to put it down. and i really haven't had enough.
go and buy the book
, trust me. you won't be let down (and then, check out the books that made sara gruen want to write this novel. i am.). but don't see the movie first. i know it hasn't come out, yet. but i'm just saying, read the novel before you see the movie. i have a feeling that it will make your movie experience that much more fantastic.