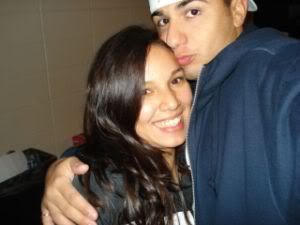 ernest and i in rochester, 2006, his first year in the navy.
it's the last day of the first month of the year.
this means that we are one month closer to ernest being out of the navy and moving home. yay!
don't get me wrong. i appreciate the military, and all that they have provided to my family, friends and fellow americans. but, i'll be very glad for the day that i don't have to wonder if our plans will be canceled because ernest has to work, and for the day that ernest and i can actually start planning the rest of our life together.
if he wanted to re-up, if he wanted to extend, i'd be perfectly fine with it. he's learned a lot from the military, and he's grown into an upstanding citizen, and i am so very, very proud of him and what he's accomplished. he's a hardworker, and that has gotten him very far, and it will continue to provide him with a foundation for his future accomplishments. so, i do believe the end of his contract will be bittersweet for us.
but it will also be the start of something new, and that's always exciting! isn't it?