i joined alpha phi, in the fall of my freshman year. it was my lifesaver, in that it gave me home, when i was incredibly homesick, 2000 miles away from home, and sisters, when i was missing mine more than anything. i'm incredibly grateful for the experiences i had, and of the memories i made with some of my favorite people.
our sorority was incredibly service-oriented, like many of the other fraternity and sororities on campus. say what you will about greek life on college campuses, but we're not all parties and booze. and like many of the other greek organizations, alpha phi has a certain cause that we give special attention to. ours is
women's heart health
.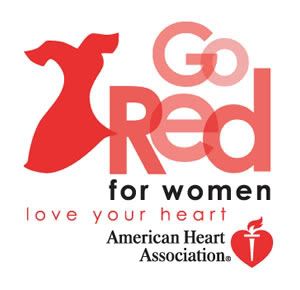 some of you may not know this, but recently women's heart health has become a cause that is near and dear to my...well...heart. in the winter of 2009 my grandmother had heart surgery, because some of her arteries were clogged. it really shook everyone, especially my grandmother. she quit smoking, cold turkey, and has cut out salt from her diet, among other things.
every year, alpha phi chapters around the world (yes, we're international!) join forces with the american heart association and host a "cardiac care week" (or month). it usually kicks off with the first friday in the month, which the american heart association has established as
national "wear red day"
, and continues on for a week (or so) with programs, and fundraisers, meant to garner interest in women's cardiac care, research and funding.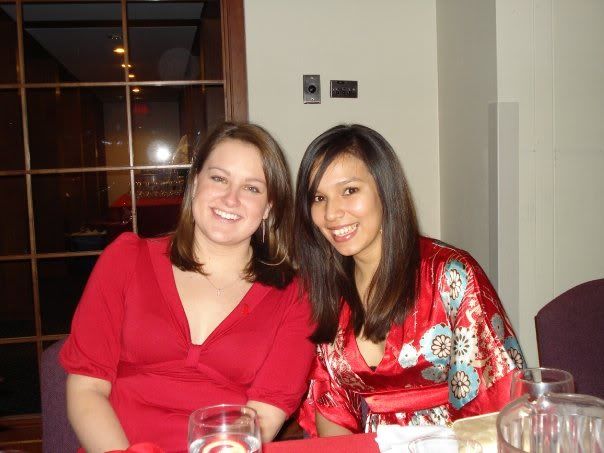 some of my friends and i wearing red at our first annual cardiac care dinner my senior year (feb 08).
this year's "wear red day" is
friday, february 4th
. i'll be wearing red, and my red dress pin (shown above), as well many of my sorority sisters. (you can order one
here
.) you can join us and wear red to show your support and raise interest in the fight against heart disease, as well! and be sure to spread the word!