it's my dad's birthday, and i wanted to take some time to reflect on our relationship. i'm my dad's oldest daughter, and he was incredibly strict with me when i was younger, but my dad's love and encouragement has shaped me into the woman i am today, and i am incredibly grateful for the many, many things he has taught me.
what has my dad taught me? i think it's easier to tell you what i haven't learned from him. my dad was there for every dance recital, cheer competition (even now, when i'm no longer a participant, but a coach), softball game, and awards ceremony. and yet, he was still working overtime, still putting in more hours than necessary, just so that my sisters and i could have everything we could ever want or need. if we needed help with our homework (particularly math) he would sit down with us and try his best to help us understand. he made sure we got extra help, be it tutoring, or private batting lessons. he provided for us, and i can honestly say that my sisters and i had incredibly quality childhoods because of his dedication to our family.
i credit both of my parents for my successfully earned BA in English, but my dad was the one who took care of the little details that one doesn't think about when they are applying to a "new ivy" private university. he encouraged me to do work-study (working part-time while going to school full-time), and then made sure that i never needed to use the money i earned for bills or books. i worked hard in school, not just for myself, but for my parents, too, and i was so proud and happy to have them witness me walking across the stage and getting my diploma. i couldn't have had the experiences i had at rochester, without my dad's support.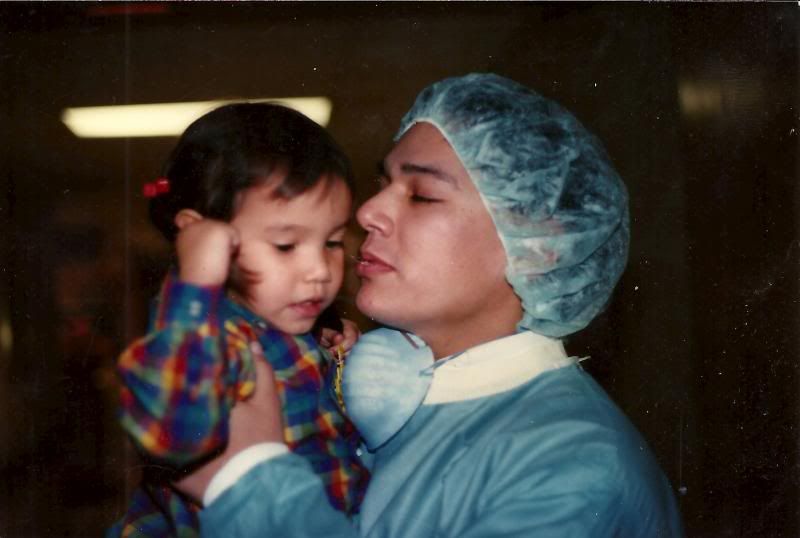 i know y'all have seen this one before, but it's one of my faves.
my dad is always the one who gets up in the middle of the night and opens the door when i'm feeling unsafe walking from my car to the front door. he's the one who goes to get breakfast every weekend, and brings back the sunday newspaper because he knows i like to clip the coupons (okay, maybe the sports section has something to do with it, too). he's the person i call when i'm having car problems, school problems, or work problems, and he always has a solution (even if i don't particularly agree). and when i said i wanted to run one 5k or 10k a month this year, he was the first person to say he would do it with me. i know i can count on him, and that's a quality i consider necessary in all of my relationships.
in other words, my dad earned the name "dad". as my coach he taught me sportsmanship (i had to earn my wins growing up), and diligence, and i'm proud to say that he was the best coach i ever had. he's still the smartest man i know, and his work-ethic has inspired me to be the "[wo]man in the arena". i'll never be able to repay him for the love and encouragement he's given me over my lifetime. he is more than a father, more than a friend, and he deserves to have the best birthday, ever, and a million more to come.
love you, daddy!