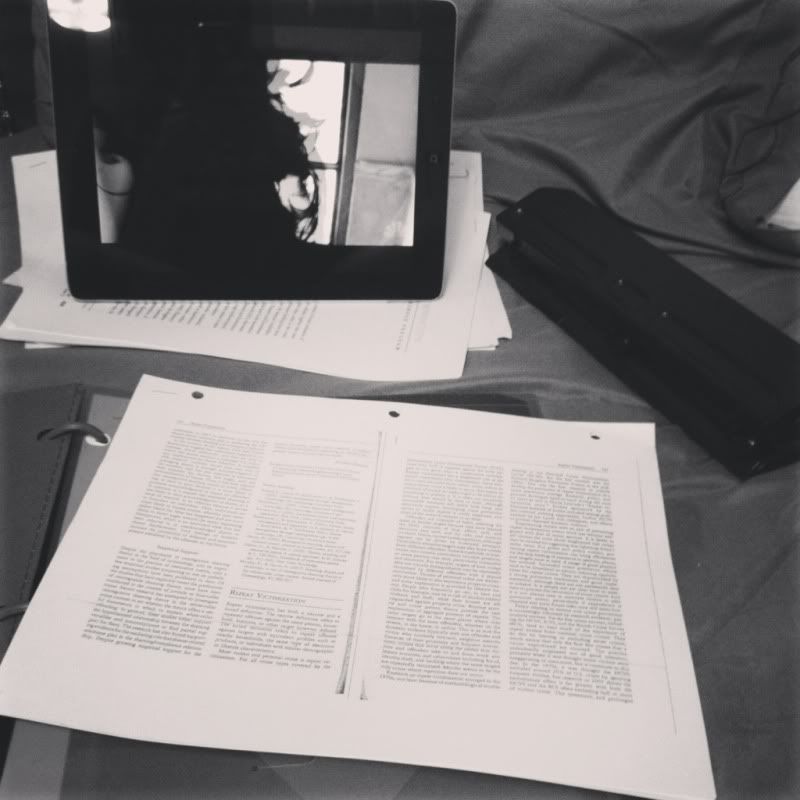 this is me being productive: studying, organizing and watching deception

on hulu plus.
something happened this week that left me feeling slightly embarrassed and not really sure how to react both in the moment of the incident and all the moments after. it reminded me how life is a constant lesson and i won't always have the answers (hell, my parents won't even always have the answers). also, it left me thinking, "sh*t, i'm not a kid anymore, and these things are going to happen, so what am i going to do about it?" being an adult is suddenly, decidedly less fun.
in other news, the rodeo ends this weekend and i have yet to get my booty to the fairgrounds. hopefully on saturday i can cross that off of my list, because i love rides and games and rodeo food (turkeyyyy legggsssss). also, the oscars are on sunday night and guess what? i haven't seen any of the best picture nominees! i really want to make at least one of them (SILVER LININGS PLAYBOOK) happen this weekend, so fingers crossed, y'all.
i've decided that this weekend will be for baking something. i'm in the mood, and why not? i mean, yes, it's the year of weddings and i want to look my best, but honestly baking makes me happy and that's far more important. although, i do have to be better to my body still. more veggies, please!
links for the week: