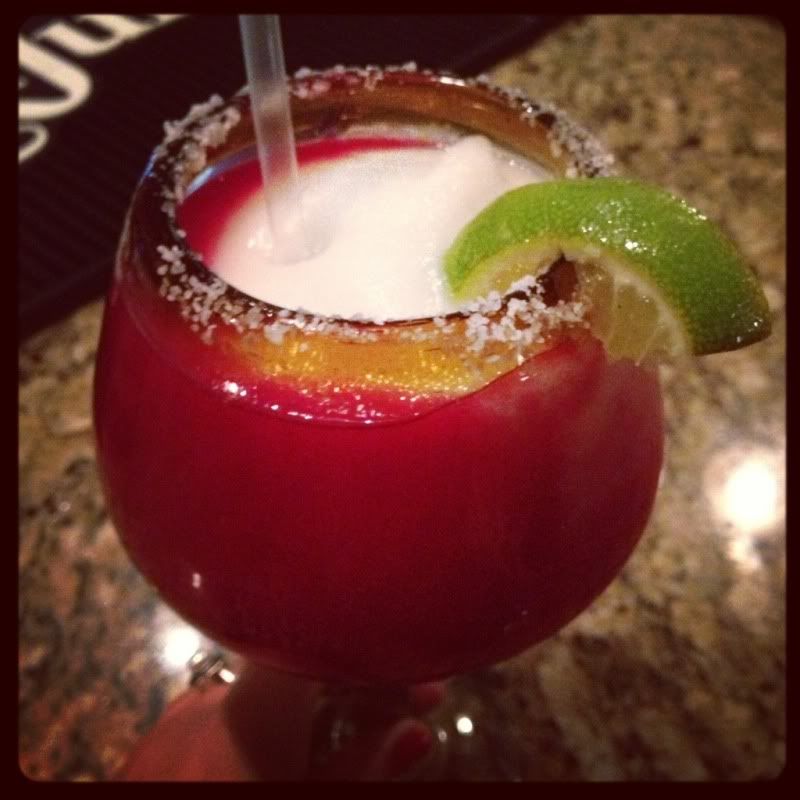 last week my "little sister", kat, and her dad came to san antonio on a business trip. kat called me to let me know they were going to be here, and that they would be staying in a hotel near the airport. she wanted to meet up for dinner, so i thought a place closer to her hotel would be better than her and her dad trying to navigate downtown (although the riverwalk is a great place to take visitors!). we were originally going to take them to one of my favorite restaurants, tomatillo's (a mexican restaurant), but sadly (or awesomely, as we soon found out) it was closed for a private party.
my mom suggested
paloma blanca
, which is another mexican restaurant right down the street from tomatillo's on broadway. i had never been there, but my tastes are pretty in line with my mom's, so it sounded good to me. the restaurant is tucked away in a small shopping center. inside the restaurant, the waiting area is filled with oversized chairs and situated in a way that seems cozy for small parties waiting for their table. the bar is easily accessible from the waiting area, which is convenient. kat, my sister, corinne, and i each ordered prickly pear margaritas (mine pictured above), kat's dad ordered a strawberry margarita and my parents each had a shiner bock beer. my margarita was really, really strong, but it was by far the best prickly pear margarita i've ever had (once i stirred the mix in really well).
once seated, we ordered the guacamole olmeca, an appetizer of avocado, mixed with tomato, onion, cilantro, lime and orange juice, salt and pepper, and chile pepper, fresh and prepared tableside and served in a molcajete. kat and her dad were unsure of whether the chili would be too spicy for them so we ordered one with chile and one without. however, the chili wasn't spicy at all, and i think kat and her dad liked the guacamole with chile best! honestly, the guacamole was so delicious (i really think i could live on fresh guacamole, or even just fresh avocado), i ate so much of it that i almost wasn't hungry enough to order an entree. but i did anyway!
kat and her dad each ordered sampler plates, which came with different versions of quesadilla (al carbon or al pastor) and enchilada (verde or de queso), and then a chalupa compuesta or flauta. my mom and dad split the fajitas, which smelled sooooo good, and corinne ordered the enchiladas divorciadas (chicken enchiladas topped with queso monterrey, and one covered in salsa verde, the other covered in salsa ranchera). i ordered the pollo asado, which consisted of grilled chicken breast covered in sauteed mushrooms, onions and poblano pepper, and served on a sizzling comal. the smell of my meal alone was satisfying enough, but once i tried a bite or two i was really blown away by how good it tasted.
i can't wait to go back to paloma blanca and try something else (corinne's enchiladas looked SO GOOD). corinne said she wants to go there for her birthday, but the menu is pretty pricey, so i'm not sure if that's where we'll end up going after all. i would definitely recommend this restaurant to any of my friends, family, etc! if you love good, sticks-to-your-ribs, mexican food, paloma blanca is a good place to go. also, they have patio dining, so when it's warm enough, i'll definitely be dragging some people out to eat there. :)