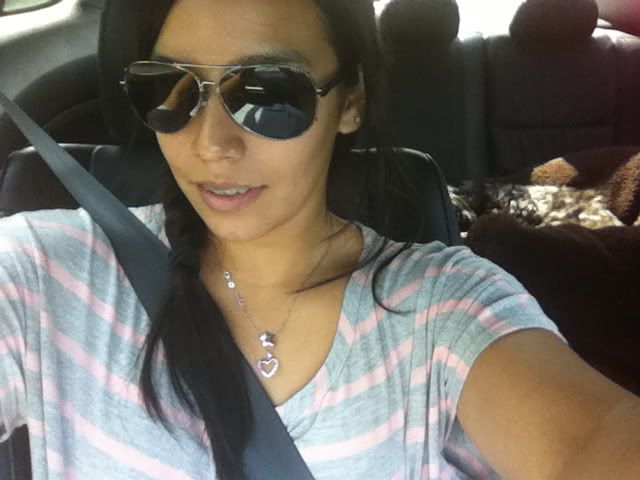 my twenty-fifth birthday was fantastic. i spent the weekend with some of my favorite people (only ones missing were my lovely psis+other and big sis, danielle) and did a ton of things i really enjoyed.
i'm not sure if y'all know this about me, but i am a sun-baby. i love being outside and enjoying the delicious golden rays of the sun (with tons of sunblock, mind you). in fact, i spent three full days doing outdoor activities.
we drove home on thursday morning. ernest had wanted to take me to ihop, but i talked him into just picking up mcdonald's on the way, since we were getting a later start than we had anticipated. my "little sister" kat and her boyfriend were arriving in san antonio around 2, so i wanted to make sure they weren't waiting too long for us to drive in. ernest was a dear and drove the whole way home, so that i could get my homework for the weekend done. i finished most of it in the car, which was nice.
after ernest dropped me off at my parents house, kat and frank came over. they had spend a couple of hours downtown, exploring the riverwalk and the alamo. the heat and humidity was a huge adjustment for kat, a native of san diego, but she seemed to be taking it pretty well. we went to dinner that night, my parents, my sisters, kat and frank, my grandmother and i. we decided to go to tomatillo's, which is where i had my "going-away" dinner seven years earlier. they have awesome sopapilla's there, which i had planned on ordering, but i filled up on the quesadilla and margarita i ordered, so we didn't get them after all.
we planned for an early morning on friday, since we were going to the river to do a little tubing. tubing down the comal river is something everyone should do at least once. it doesn't take much longer than two hours (depends on river flow, of course) and it is so relaxing. we loaded up two small ice chests with enough beer to serve an army of men (just kidding, but we did have a lot of beer) and ernest, corinne, kat, frank, frank's friend, grant and i all headed down the river. afterwards we were reasonably hungry, so grant suggested we go to this out-of-the-way (i
wish
i was kidding) pizza joint, owned by a former nfl player. the pizza was really good! the owner also brews his own beer and it was definitely refreshing and tasty.
after we made the long-drive (thanks, baby sistaaa) home, we met up with my parents at home. ernest went back to him mom's house, but the rest of us decided to go out to dinner for some mexican and margaritas again. i had queso flameado, which is some sort of cheese and chorizo (i think) served with a platter of tortillas, and you scoop the cheese into the tortillas and eat it rolled up, with a delicious prickly pear margarita. this, combined with all the sun we got earlier that day, made me incredibly sleepy, so instead of heading out on the town, we opted to get some sleep!
days 3 & 4 coming shortly.