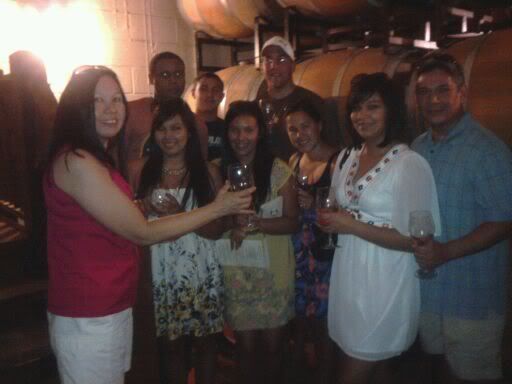 after a long day of driving thursday, and a long day on the river friday, saturday's trip to a vineyard in
fredericksburg
seemed like a nice change of pace. if you've never been to the hill country in texas, and you have a chance to take a trip there, do it. the area is gorgeous and the people are so friendly! there are quite a few vineyards out there and the small town of fredericksburg has a quaint tourist attraction in the form of main st. also, enchanted rock, the highest hill in texas, gives you the chance to take a nice little hike and get a different point of view of the beautiful hill country.
we chose to go to
grapecreek vineyards
, and did the wine tour + tasting. it was very interesting, although a few of us were itching to get past the tour part and dive right into the tasting, haha! it was clear the tour guide thought my sisters and i were well under age, because he served us a small amount of wine in comparison to the older people on the tour. that's quite alright with me, though. when i'm their age, maybe i'll finally look 25! haha!
afterwards we bought a couple of bottles of riesling, and some cheese and crackers, and had a little picnic and wine tasting of our own. kat and frank left at this point, as they were going to see his father for father's day in katy, tx. the rest of us headed into downtown fredericksburg for some german food and beer. i was hoping to get some peach cobbler, but filled up pretty fast on my lunch and my glass of oktoberfest. after lunch ernest and his mom headed back to san antonio, and corinne took her boyfriend home.
mom, dad, casee and i took justin (my cousin) to his dad's house in kerrville (about 25-30 min drive from downtown fredericksburg), where my uncle, aunt and grandmother were barbequing. they just moved into a new house, with a built-in pool, so casee, justin, grandma and i jumped in! it was a such a nice, relaxing day. next year, though, i'm definitely hitting up a brewery!
on sunday we celebrated father's day with my dad's family. we went out to aunt cyndi's house in floresville for some fun in the pool and more barbeque! grandpa contreras showed up, which was nice. they had a cake for me, and i got to blow out a candle. sometimes we just like to be kids at heart!
by the end of the day i was exhausted from my birthday adventures. ernest's mom had made me a cake, though, so i went over to her house and we had some vanilla cake with chocolate frosting and strawberries on top (my fave!). i felt bad that i hadn't been able to make it over earlier, but it was a very good cake, and i took it home to my parents house so they could have some too.
my birthday weekend was full of fun and good food. lots of breakfast tacos were devoured, and sweet tea/blue moon imbibed. we had such a great time enjoying some of the best south texas has to offer, and i can't wait to spend more birthdays like that! those are the best, n'est pas?