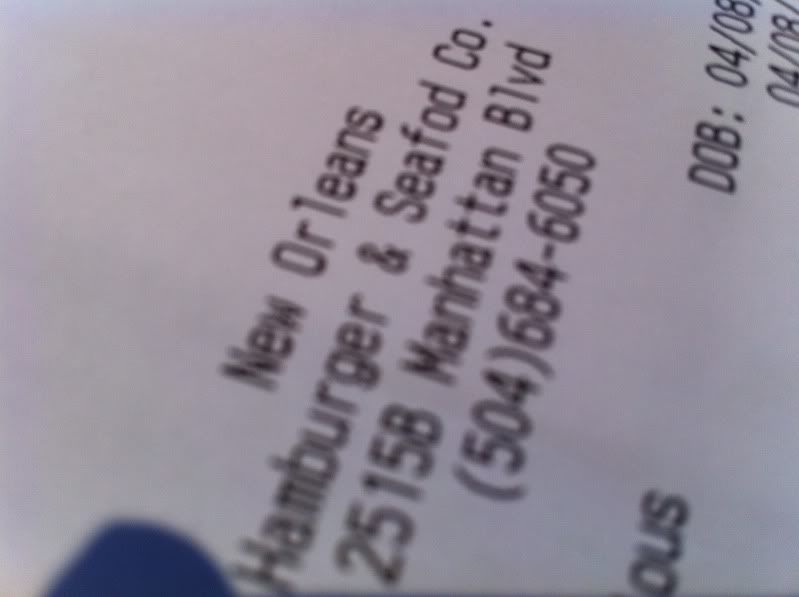 weekends are when i fit my household chores in. i'm too busy (okay, and maybe a little lazy) to do much more than load the dishwasher or do laundry on weekdays. of course, by the time we get to the weekend, all i want to do is relax. so it's an endless cycle of never wanting to do chores. not that we let our apartment get disgusting, but there have been times when i've turned the AC off just to air it out (give us a break, we have a stinky dog and a stinky turtle!). anyway, this past weekend, i did clean up a bit. i guess when spring rolls around, i start feeling more like i want a bright, friendly, fresh space, because i keep dreaming up ways to make our apartment more of those things.
when i got home from work on friday, the first thing i wanted to do was eat. ernest was pretty hungry as well, so we decided to do an early lunch before working out. ernest heard good things about new orleans hamburger co., a little burger joint just down the street from our apartment, and we thought it would be a good idea to go check it out. we were surprised to find that there's not a hostess to seat you when you walk in, but instead there are two lines that lead up to a counter where you place your order and pay before your meal is served. it was surprisingly busy for 6 pm on a friday, but we didn't have to wait too long in line. after you order and pay, you then seat yourself. we found a spot in a sunny area, thankfully because it was kind of cool in there. you don't really have a waitress, but there are people who wait on you in a way. the server brings your food from the kitchen, and your either supposed to get your glass for your fountain drink when you order/pay, or if you order a beer (like us) then someone is supposed to bring it to your table from the bar. we received our food before our beer, and after waiting far too long for them to come, we brought it to the attention of the waitstaff that we had never received our drinks. after we finally got out beers, we were able to eat and the food was pretty good. i had the baja burger and fries. we weren't entirely impressed, however, and we probably won't eat there again. afterwards we decided against working out, since we had huge burgers and beers, and would just as soon roll off the treadmill as run on it, and instead watched some basketball.
on saturday ernest had to work, so i ended up getting up not too long after he left (99% of the time, when he gets up i get up, i just can't sleep after that). i took riley out and then went to the gym for about an hour. i didn't want to immediately sit down after such a great workout, so i took riley for a short walk and wore him out a bit. then i took him with me to starbucks to grab some quick and yummy breakfast (skinny caramel macchiato and perfect oatmeal). i ate at home while watching the season finale of KKTNY (i had dvr-ed it). then i quickly threw some dishes in the dishwasher and headed to the gas station to fill up my tank and get some money for the carwash. i spent an hour working on my car, and i still don't feel like it's perfectly clean (leave me alone, i'm type A), but it definitely think it looks better!
after i thoroughly cleaned my car, i went back to the apartment to shower and get dressed. after i was totally clean, dressed (and had finished watching the finale of teen mom 2) i drove over to the little farmer's market to pick up some fresh and yummy produce. they had tons and tons and tons of beautiful flowers out front. i wish i could've picked some up, but since we're going on vacation for a week, i decided against it. then i went to the grocery store to pick up the rest of our groceries. ernest was home by the time i was done, and he wanted to go to the gym, so i went with him (but this time i only did strength training). afterwards we baked some chicken breasts i had marinated in bbq sauce, and made mashed potatoes and broccoli as our sides. we relaxed with more basketball and beer before going to bed early.
ralph's daily chore is trying to escape. on saturday he flipped himself over 4 times...and that was before noon!!
on sunday ernest was told he could stay home, even though he was supposed to work. i started laundry early, and made us a yummy bacon, refried beans and egg breakfast. we relaxed a little longer, watching tv while i read and ernest worked on some of his class work. then we went to the gym and got another good workout in. we might have negated any calories burned, however, because after we showered we picked up some mcdonald's for our lunch/dinner. can't help but love those mcd's fries and big macs!
my weekend was so low-key. there wasn't anything that i HAD to do, so that was incredibly refreshing. those are my favorite kinds of weekends. and they're even better when ernest is actually home to enjoy with me. we're definitely looking forward to his time off the next couple of weeks, because after that is up he'll have another (relatively short) detachment to go on. in the meantime, we'll be enjoying fiesta, and maybe a special little nola date if i can talk him into it! :-)