this week started out incredibly rough. in fact, i distinctly remember saying to myself on tuesday around noontime..."is it friday yet?" it seems like the closer we get to making decisions about our future and the big move back to texas, the longer the weeks and days seem.
but the week is ending on several high notes, and now there are so many things to be excited about that i can't even seem to fathom being as stressed as i have been in the past couple of months.
here are some of the things that got me through my "week-from-hell":
1. my sister and her best friend arrived in nola on wednesday night! they're spending the last few days of their spring break here with me and we have some fun planned for the weekend.
corinne and becky at the st. patty's day parade.
2. st. patty's day. because what other excuse do you need to drink beer, wear bright green and throw a parade???
3. planning on taking corinne and becky to
mulate's
for their first taste of gator. mulate's has quickly become one of mine and ernest's favorite places in nola, despite the high prices.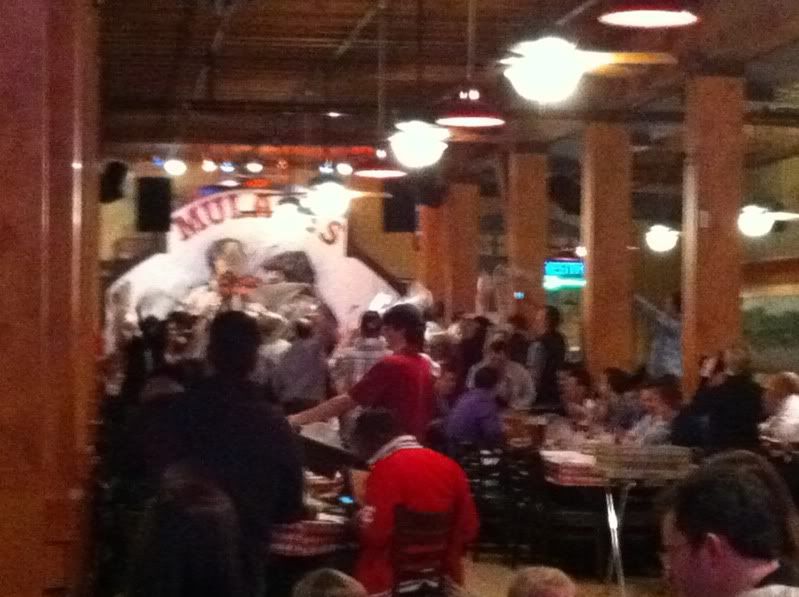 from our last trip to mulate's during mardi gras.
4. it's boiled crawfish season, again! and ernest just let me know that his friends are planning a crawfish boil for saturday! cannot. wait.
crawfish from the boss to celebrate the start of the last year's crawfish season.
5. my parents are coming this weekend! granted they won't get here until saturday evening, and they have to leave early sunday morning, but it'll be good to see my mom and dad. plus, they're bringing us more big red!